Read Time:
4 Minute, 56 Second
Step inside one of the great locations in Ardmore.
And, immerse yourself in a medieval palace like no other in Ardmore.
Be transported to a world of intrigue and ambition, as you experience the vibrant locations of one of Ardmore's most properties.
Located about a mile away from Ardmore on the townland of Ardoginna stands a grouping of towers and battlements, known locally as Ardo House and McKenna Castle.
Located on private land a number of different family names have been associated with this site over the centuries.
One of the earliest owners was James Fitzgerald and is recorded in the Civil Survey 1654 – 1656. In the early 17th Century there was a family by the name of Coster and later that century Sir Francis Prendergast resided there. The Coughlans of Ardo were referred to as the 'de Casteries' through whom, by marriage, were Marshall McMahon (President and Marshall of France in 1873). It was from Marshall McMahon that Sir Joseph McKenna purchased the property in 1865. Hence it became known as Mckenna's Castle and it is located on private land and is now in a ruined state.
Ardo House is said to have some bizarre beginnings and some odd events have fallen upon it over the years.
Early surveyors during the mid 17th century found nothing here worth commenting on, soberly noting that James Fitzgerald of Ardoginna and his wife Ellen had given a 47-year lease to Pierce Power in 1619. However, the name Costen was added as the heir. It is said that Costen was caught trying to steal a gold cup and having fled the house was pursued by his irate guardian. He was then found hiding in a sea- cave nearby and was promptly hanged.
The place was afterward known as Croch an Oidhre (the Heir's Gallows).
The next owner was Sir Francis Prendergast who is reputed to have hanged a servant whose skeleton was later found under the dining room floor. Strangely also there is also a report of a child being buried under some steps in the house.
Early in the 18th century the house and lands passed into the hands of a family named Coghlan. In 1795, aged 18, Anna, eldest daughter of Madam Coghlan, married the 8th Earl of Barrymore, confidante of the Prince Regent. The Coughlans must have fallen on evil days as there are several accounts of the Widow Coughlan and her smuggling activities, of her two handicapped children and her two beautiful daughters. One daughter became Lady Barrymore and her sister Eliza went to live with her in London, where she met the widowed emigré Duc de Castries. She married him and returned with him to France after the Revolution.
The houses were later acquired by Marshal McMahon (President and Marshal of France in 1873) on his marriage to Elizabeth, daughter, and heiress of the Duc de Castries (Marshal McMahon). It is not fully clear how it came into the ownership of Sir Joseph McKenna but it is thought that he acquired it from the National Bank of which he was a director. He is said to have added the curtain wall and towers plus ah extravagant mausoleum, for his wife and himself. He was laid to rest there in 1906 and the house was then taken by his son, Joseph Emnanuel who apparently lived there until some time during World War 1 after which the house was abandoned.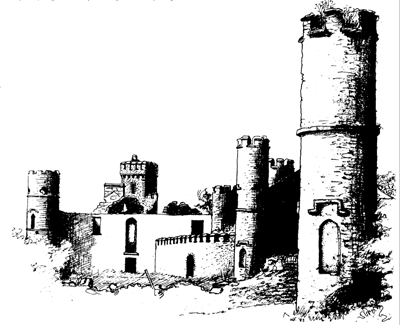 The mausoleum in the grounds was regarded by Mr.Bence Jones as the "final touch of macabre fantasy. He describes looking through the broken window at the tombs of the McKennas, adding: "Guarding it is an almost life-sized marble angel, comfortable and homely looking as though resting after having eaten a picnic lunch, a most surprising apparition amongst the briars and nettles by the side of the field."
The angel remains lost in the undergrowth and the house, with its ghosts and its memories.
The McKenna Vault at Ardoe about one mile west of Ardmore near the ruin of Ardoginna House. Inscription reads as follows:
"This monument is erected in deepest love by his wife, Amelia Annie.
My life is like a broken stair leading round a ruined tower leading nowhere. [Tennyson]
Love: What a volume in a word, an ocean in a tear, a seventh heaven in a glance, a whirlwind in a sigh. [Martin Tupper]
See what a grace was seated on this brow; The front of Jove himself an eye like Mars to threaten and command. A station like the Herald Mercury, new-lighted on a Heaven-kissing hill.
A combination and a form, indeed where
Every God did seem to set his seal to give the world assurance of a man.
This was your husband.
[Shakespeare]
Rock of ages cleft for me
Let me hide myself in thee"
Sir Joseph Niall McKenna, former owner of Ardoginna House. [now in ruins], and his wife are buried in this vault. The coffins may be seen through a window at the side.
In 1942 and ITA National Survey wrote about the Ruins of Ardoginna House as being formerly the residence of Sir Joseph McKenna, M.P. Rented to a committee [Rev. James Walsh, Miceul O Foghludha, Dr. Foley, M.D., Muiris de Leis, Labhras O Cadhla and Deuglain O Cuilliu] in 1920. Irish classes were continued here in 1920 and 1921 when Monae House was bought. The house was destroyed during the 1922 Troubles. Mention of this house in John Locke's poem "The dawn on the hills of Ireland". This place is known locally as "An Sean-Colaiste".