Read Time:
8 Minute, 38 Second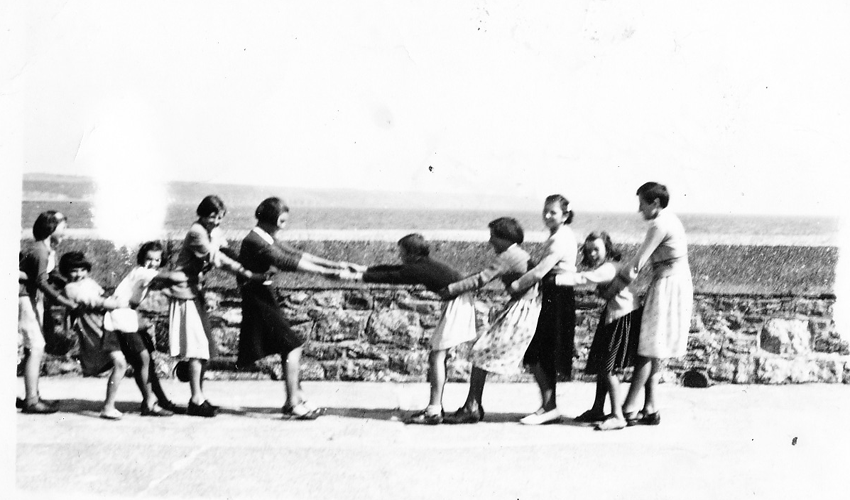 People lie at the heart of heritage.
While it's crucial to protect buildings and preserve historical sites, the true essence of heritage resides in its vibrant presence among us.
It lives on in our hearts and minds, infusing meaning and creating a sense of community.
Within this website, we have come to realize the significance of the little things that truly matter.
We have discovered that these details can often be intangible, tied to the emotions and connections we forge.
Consider the inspiring passion of John Keevers, whose dedication motivated countless others to safeguard our heritage.
Reflect on John Kennedy's fond memories of his family saving kerosene to power the Harvest, and the sheer delight of witnessing the Harvester rolling down the road from Kiely's Cross during his childhood. We glimpsed it through James McCarthy's vivid recollection of the massive snowfall that blanketed Ardmore in 1947.
It is present when the Burke Sisters lovingly cradle a medal and hat, proud heirlooms linking them to a past generation. One of their relatives had met the King of England as a hero of the Teaser, a monumental event over a century ago.
It surfaces in Ed Mooney's beaming smile as he recounts the formation of the Drama Group and their subsequent national triumphs. It's the feeling that envelops you while strolling along the Cliff Walk.
It's the essence captured by our migrating residents as they return to Ardmore each summer, feeling a profound sense of belonging and thinking, "This is what it's all about."
And then, there's the poignant tale of a little girl who witnessed a brutal murder while hiding in a box. This event led to the execution of two local brothers. Paula King's passion for the seashells scattered around Ardmore, as well as Tommy Mooney's stories about the lookout and all things Ardmore, further exemplify this spirit.
We've also heard Maureen Moore Tarbox's account of retracing her grandmother Ellen Power's departure route, traveling by foot or farmer's cart from their cottage to Ferry Point, catching a ferry to Youghal, then a train to Cobh, and finally a boat to America. "She had to… She was the oldest and had to go."
The melancholy passing of Ardmore's fishing industry also speaks volumes about our heritage.
We've witnessed the echoes of a siege that resulted in over a hundred hangings in Ardmore in a single day. Dr. Murphy's lone camera work on a particular night sparked memories for generations to come. The evocative photographs of the Powers and Troys preserve the essence of bygone times.
All these stories and more breathe life into our heritage, making it tangible and allowing us to safeguard it for future generations.
Discover the living heritage of Ardmore.
Ardmore offers a wealth of attractions for visitors, whether they are exploring the sunny South-East or traversing Ireland's Ancient East trail.
Our cliffs, harbor, village, and beaches have been shaped by saints, tested by armies, graced by sea titans, and embraced visitors within our homes. Few coastal regions can match the activity witnessed along Ireland's Southeastern shores.
To guide your journey through the living heritage of Ardmore, we have organized our offerings into four categories: fishing, people, heritage, and shipwrecks.
Ardmore's prime location provides visitors with access to:
– Heritage sites
– Breathtaking scenery
– Engaging sightseeing opportunities
– Enchanting walking trails
– Rich craft traditions
– Captivating museums
Ensure you don't miss out on the myriad attractions when you visit Ardmore and Grange in Waterford, including:
– Ardmore Cathedral
– Ardmore Round Tower
– St. Declan's Well
– St. Declan's Oratory
– St. Paul's Church
– McKenna's Castle
– Ardmore Cliff Walk
– The Lookout
– Fr. O'Donnell's Well
– Samson Wreck
– Ardmore Pier
– Ardmore Main Beach
– Curragh Beach
– Goat Island
– Whiting Bay
PLAN A GREAT DAY OUT
Shops, food, and toilets are available in the centre of the village.
We also include some key contacts that will make your visit even more special.
Ardmore Adventures
Ardmore Adventures specialises in exciting outdoor activities to suit all ages and interests from beginner to expert in the East Cork/West Waterford area. Main Street
 Ardmore, Co. Waterford Tel: 
083-3743889 Email:
info@ardmoreadventures.ie
Blackwater Cruises
The tour leaves from Youghal jetty and travel North up the River Blackwater, past Rhincrew, and towards the old bridge and the remains of Templemichael Castle. Passing Molana Abbey on the left, you'll enter a tranquil, unspoiled area of natural beauty, as yet untouched by urban development. The tour lasts approximately 90 minutes subject to weather and tides. Prices for Blackwater Cruises are as follows: Adults – €20. Children – €10. Contact Tony Gallagher on 087-9889076 or http://www.blackwatercruises.com
Ardmore Open Farm
The open farm is located just minutes from the seaside village of Ardmore, Co. Waterford and is beautifully situated overlooking Whiting Bay. Tel: 024 87600 http://ardmoreopenfarm.ie
Perks Funfair 087-6679971
Shops
Ardmore Pottery and Gallery
Mary Lincoln established Ardmore Pottery and Gallery in 1983. Tel: (0)24 94152
The Anchor Art and Design Boutique, Ardmore 024-87740 Stocks an eclectic mix of tasteful Irish accessories, cashmere scarves, and bags, alongside original artwork by local painters.
Ardmore Diving
Ardmore bay offers ideal conditions for sheltered inshore diving, and further, out to sea there are numerous dive sites including several wrecks .+353(0)876897600 E: waids@eircom.net
Quinns Foodstore Tel: 024 94250
Beachcombers Beach & Ice-Cream Shop
Sharon and Harry look forward to welcoming you to their shop on main street Ardmore, Co Waterford. They will be pleased to be able to provide you with all your needs for a great day out in Ardmore. 024-87742 / 086-8097185
Judy Shinnick Art Studio
Judy is an award-winning classically trained artist living and working in Ardmore Co Waterford and Dubai, UAE. Judy also teaches watercolor, oil, and mixed media workshops. www.judyshinnick.com
Brigid Shelly Gallery
Brigid delighted to be known as the "Cow Painter", as over the last fifteen years she has specialised in painting cows, but she does paint a variety of other subjects as you will see on this website. 087-2676152 www.brigidshelly.ie
Brenda Harris Art Studio
Brenda is very fortunate to have the experience of living in two vastly different but very beautiful countries – Ireland & France. The surrounding landscapes in Ardmore, Co. Waterford, and Collioure in the South of France with their ever changing climates inspire my work greatly. Tel +353 86 8371855 brendaharrisireland@gmail.com www.facebook.com/BrendaHarrisArtBox
www.brendaharris.ie
Michael O'Brien's Shop, Grange
Waterford County Museum, St Augustine St, Dungarvan, Co. Waterford. (058) 45960
Bars & Food
Keever's Village Bar, Main Street,
 Ardmore
, Co. Waterford 024-94141
An Tobar, Main st Ardmore Co. Waterford 024 94166
White Horses Restaurant, Ardmore 024 94040
Flemings Bar, Grange
Kiely's Bar, Kiely's Cross
Tidytowns http://www.ardmoretidytowns.com
Ardmore Pattern Festival www.ardmorepatternfestival.ie
Molly Keane's Writers Retreat 086-4071811 mollykeanewritersretreats.com
Dr. Joseph Meehan Health Centre, Ardmore, Co. Waterford (024) 94280
Mari Mina Pharmacy, Main Street 
Ardmore Tel: 024 94898
Where To Stay
You'll be spoilt for choice when you come and stay in Ardmore.
From the Michelin starred Cliff House Hotel to the wonderful family run Round Tower Hotel located in the heart of the beautiful village of Ardmore, your every need will be met. We also have a wonderful selection of really special bed and breakfast accommodation and guesthouses to suit any visitor.
We are pleased to provide you with key contacts that are sure to cater to your every need.
Round Tower Hotel
The present proprietors, Aidan and Patricia Quirke took over the operation of the hotel in January 1996. Aidan is a Shannon Hotel School graduate with almost thirty years of experience in the hotel trade. Round Tower Hotel offers 10 well-appointed en suite bedrooms with Wifi, TV, phone, and tea & coffee facilities. Bedrooms have been fully refurbished during the winter season 2015/2016 and will re-open in March 2016.
The Hotel has a dining/breakfast room, a small function room, a traditional Irish bar, and a residents lounge. Fresh local produce features prominently on both the bar and restaurant menus. Bar food is available during the summer season from May to September normally and our traditional Sunday Lunch menu is served all year round. The hotel also has a live music session on the last Friday of every month all year round. Tel: 353 (0)24 94494 http://www.roundtowerhotel.ie
The Cliff House Hotel
Regarded as one of the finest small luxury five-star hotels in Ireland, this 39-room seaside boutique hotel features an intimate Irish destination spa as well as a Michelin-starred restaurant. Tel: 024 87800 http://www.thecliffhousehotel.com
Duncrone Bed & Breakfast
This bed and breakfast has breathtaking views will make your stay fondly remembered. This charming house in its splendid surroundings has everything to offer, private car parking, every bedroom en suite, tv, free WiFi. Jeanette & Pat Dunne extend a warm welcome to everyone who stays there. Tel +353 (0)24 94860 www.duncronebandb.com
Cush Bed & Breakfast Duffcarrick Ardmore Co Waterford Tel: 00353 +(0)24 94474 Mobile: 087 4141222 email: mttroy@eircom.net
Newton Farm Guesthouse, Grange, County Waterford.
Newtown Farm Country House is run by Maurice and Teresa and they have been welcoming guests into their family B&B for over 33 years. Our bed and breakfast accommodation is located near the coastal resort of Ardmore, Co. Waterford. The 120 acres has been farmed by 4 generations of the O'Connor family for the past 150 years. Tel +353 24 94143 farm@newtownfarm.com
Fountain House Ardmore
Charming B&B accommodation located on Main Street in the heart of Ardmore village. Tel: 024-94256
Summerhill Farm House
A large working dairy farm just 3 miles from Ardmore. Tel: 353 (0)24 92682 www.summerhillfm.ie
Ardmore Bed & Breakfast
Opened for 2013 and located in Lissarow, three miles from the village. www.ardmorebedandbreakfast.ie
Tel: 00353 (0)24 87693 info@ardmorebedandbreakfast.ie
Cush B&B
A 3 star Failte Ireland approved, modern guesthouse situated in Duffcarrick, Ardmore. Tel: 353 (0)24 94474 www.cushbandbardmorewaterford.com
Carraigdhoun B&B 024-94436
Curragh Caravan Site 087-2452549
Ardmore Seaview Motor Home Park 086-3895755
Beach Caravan Park Site Rental 024-94938
Powers Caravan Park 087-2230264
Ardmore Holiday Homes 087 6868410