We've all had sporting heroes.
And, for many living in Ardmore, the Senior Finalists of 1964 are elevated to hero status.
We remember them here today.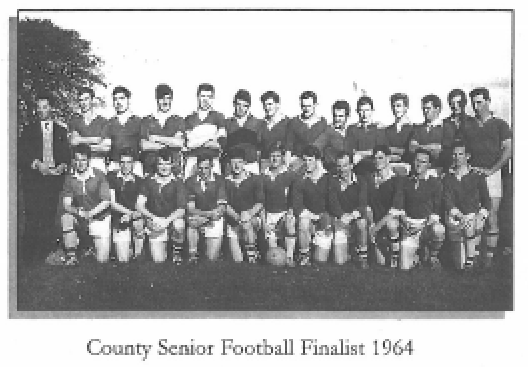 Frank Colbert sent this photograph from Sunny South Africa.
The names of the Senior Football Finalists (1964) photo are as follows:-
Front row, left to right. :- Michael Carleton, Anthony Carleton, John Joe Carleton, Tom Power, Finbarr Hallahan, Jim Rooney, Thomas Hallahan, Donald O'Brien, Austin Flavin, Mossie Hallahan, and Paddy Carleton.
Back row, left to right:- Paddy Foley ( selector ), John Mulcahy, Maurice Colbert, Noel Power, Frank Colbert, John Colbert, Pat Prendergast, Bertie Hallahan, Pato Keevers, Matty Cronin, Jim (?) McGowan, Donald Lenane, Hugh O'Reilly, and Eddie Mooney.
If you know more about this photograph, the team, or the matches that they played in – then please let us know using the comments section below